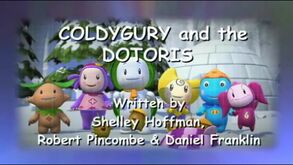 Coldygury and the Dotoris is the first half of the 10th episode of Super 7, written by Shelley Hoffman, Robert Pincombe, and Daniel Franklin.
It is preceded by Hide and Go Squeak and is followed by Pongdybory's Cold Feet.
Summary
"The Borys learn and teach a lesson in the importance of getting permission before taking things." - TVShoaz
"Wanting to "collect" like the Borys, Coldygury takes the Dotoris to Winter." - Yidio.com
"Coldygury takes the Dotories to winter without their permission." - TV Guide
Characters
Synopsis
TBA
Trivia
This episode premiered in the United States on October 17, 2009.
This episode reveals that Totobory has a rock collection.
Errors
Lunabory says that no two snowflakes look alike in a scene where all the falling snowflakes do indeed look alike.
Many sources list this as the second half of the episode, when it is actually the first half.
Gallery