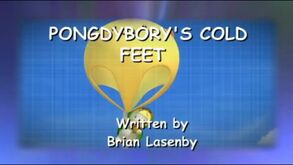 Pongdybory's Cold Feet is the second half of the 10th episode of Super 7, written by Brian Lasenby.
It is preceded by Coldygury and the Dotoris and is followed by Wangury's Silly Statue.
Summary
"Pongdybory has a cold and won't go to the doctor." - TVShoaz, Yidio.com
"Pongdybory refuses to see a doctor about his cold" - TV Guide
Characters
Synopsis
TBA
Trivia
This story has an ironic ending; Noonbory is the first character to point out that Pongdybory has a cold, then in the end, he ends up with a cold.
Pongdybory is revealed to be afraid of needles.
Errors
Many sources list this as the first half of the episode, when it is actually the second half.